New measures will allow international students to seek employment for up to a year
International students will be given visa extensions of up to a year to look for work in the UK as part of a package of government measures to boost numbers of overseas students after Brexit.
The move represents a break with current policy, where students are allowed to stay for just four months after graduation.
Announcing the strategy, the Department for Education (DfE) said: "There is no limit on the number of international students that can study in the UK, and to ensure the UK continues to attract and welcome them, the post-study leave period will be extended to six months for undergraduate and master's students, and a year for doctoral students."
The announcement said the government would also consider "how the visa process could be improved for applicants and supporting student employment", hinting at another possible change in policy.
Alongside the extended visas, the DfE and the Department for International Trade are to unveil an international education strategy with a 30% increase in overseas students in UK higher education during the next decade.
This would raise the number of non-UK students at British universities from 460,000 – including nearly 140,000 from the EU – to 600,000 by 2030, an ambitious target is given that EU students will face higher tuition fees and lose access to student loans after Brexit.
"As we prepare to leave the EU it is more important than ever to reach out to our global partners and maximise the potential of our best assets. That includes our education offer and the international students this attracts," Damian Hinds, the education secretary, said.
Janet Beer, vice-chancellor of Liverpool University and chair of UniversitiesUK, said her organisation had been in discussion with the government about the strategy for the past six months.
She said: "International students contribute a huge amount to the UK, not only economically but also by enriching the international education environment in our universities for all students. While their presence in the UK is worth an estimated £26bn in direct and knock-on effects, sustaining over 200,000 jobs in all parts of the UK, they bring much wider benefit to our academic and civic communities.
"We particularly welcome steps to improve the visa regime, including the extension of opportunities for our graduates to work in the UK once they graduate, to six months for undergraduates and master's students, and a year for those who undertake PhDs.
"We would like the government to go further and extend this opportunity to at least two years and we will continue to urge them on this point."
The visa extension follows a recommendation by the independent migration advisory committee last year, and the government's own white paper on skills-based immigration published in December. Currently, all graduates can stay for up to four months after finishing their courses, although those with PhDs can apply for an additional year.
Source: https://www.theguardian.com/education/2019/mar/16/visa-extension-overseas-students-uk-brexit?CMP=Share_AndroidApp_Facebook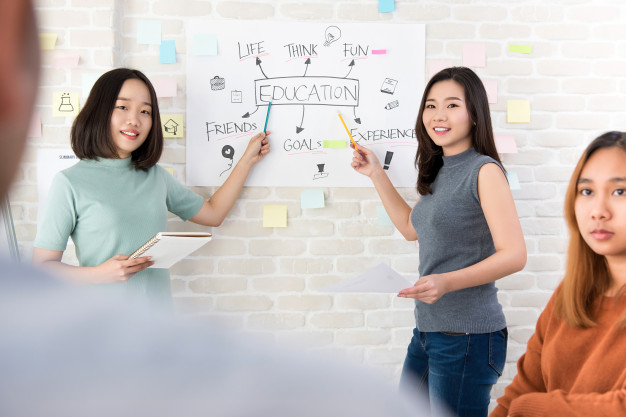 International students who want to work in Canada following their studies at a Canadian institution will have more time to apply for the country's popular Post-Graduation Work Permit (PGWP). The PGWP allows international students who have completed a program of at least eight months' duration to stay on to work in Canada for up to three years, exan perience that can count towards a future application for permanent residency in the country.
Double the amount of time to apply
Under changes to the program announced on 14 February, where students used to have only 90 days to apply for a PGWP following the completion of their program, they now have twice that amount of time – six months (180 days) – to apply. The 180-day period begins when students' final marks have been issued or when they receive a formal written notification of their program completion.
In addition, the application rules regarding PGWP have also been relaxed to the effect that:
Students will no longer need to possess a valid study permit to apply – the study permit only needs to have been valid at some point during the 180-day period;
Students may apply for a PGWP from their home country, meaning that they may return home for up to six months after finishing their program without jeopardizing their chances of obtaining a work permit for employment in Canada.
David Cohen, a senior partner at the Campbell Cohen Canadian immigration law firm in Montreal, commented that, "This is huge news for international graduates who are applying for a Post-Graduation Work Permit. Doubling the amount of time they have to apply and allowing them to do so beyond the expiration date on their study visa will make a world of a difference for students who want to stay and gain valuable Canadian work experience."
How the PGWP relates to immigration
The PGWP is an important component of the Canadian government's bid to attract talented international student graduates to bolster the country's labor force. When international students in possession of these work permits gain employment experience in Canada, they also gain the ability to amass points that they can apply to their application to become Canadian immigrants. These points are considered in their application for permanent residency under the Canadian Experience Class, which is part of the Express Entry selection program administered by Immigration, Refugees, and Citizenship Canada (IRCC).
A recent survey conducted by the Canadian Bureau for International Education (CBIE) revealed that 70% of Canada's international students want to work in the country following their studies and that six in ten wanted to immigrate to Canada in the future.
Canada is one of the five most popular study abroad destinations in the world, and the country's post-study work rights and immigration policies are a significant driver of the country's attractiveness among international students.
The number of international students holding Canadian study permits (as of 31 December 2018) reached 572,415 in 2018, up from 492,545 the year before. This compares to the 690,468 foreign students in Australia as of November 2018, and the 458,490 EU and non-EU students in the UK during the 2017/18 academic year.
Source: http://monitor.icef.com/2019/03/canada-eases-application-requirements-for-post-study-work-permits/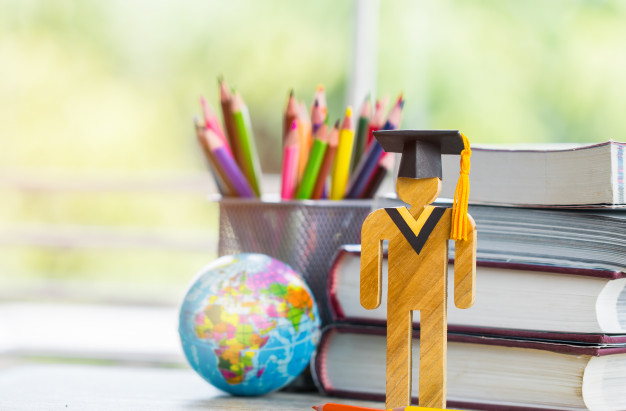 The UK application registry UCAS has released new data from its 15 January admissions deadline for the 2019/20 academic year, and so we now have an early view of what enrolment trends may look like for the coming year. "On time" applications received by January 15 are viewed as an important indicator of current demand for British higher education, though students continue to apply after the deadline as well.
Applications to British universities for 2019/20 are up overall, and this marks the first overall increase in three years. More than 561,400 applications were received by UCAS, nearly 2,500 more than at the same time last year.
While the overall growth for this year is marginal, it is being led by a 9% increase in applications from students from outside the European Union. This was driven in large part by a surge from China (+33% over 2018). Looking at the broader pool of applications, there was a 1% decrease in the number of applications from students in the UK, and applications from countries in the EU were up slightly by 1%.
The healthy growth in non-EU applications and slight growth in EU applications was met with relief by university stakeholders in the UK. "In this time of uncertainty, it's welcome news to see more EU and international students wanting to come and study in the UK," said Claire Marchant, UCAS's chief executive.
Still, the fact that Chinese applications account for so much of the increase is worrying to some who make the point that there needs to be more diversity within the international student population in the UK. Trend data illustrates the extent to which the population of Chinese in UK higher education has grown over the past decade. In 2010, there 4,450 Chinese applications registered, while for the 2019/20 year there were 15,880 plus another 5,100 from Hong Kong.
Looking at the new UCAS data, Nick Hillman, Director of the Higher Education Policy Institute, commented that,
"It is a shame that we are so dependent on one country for our international students … as I would like to see similar growth from other territories too. But I welcome the growth and I also think it will provide the UK with some real soft power benefits in the future, when these people graduate and go back to China with experience here on their CV."
Needless to say, the same concern could be raised by many leading study destinations, including the US, Australia, and Canada. But in one interesting indication of the significance of China in British higher education enrolments, UCAS observes that there were more applications from China and Hong Kong this year (20,980 combined) than there were from Wales (18,850) or Northern Ireland (17,910).
Comparing to 2018/19 data
At last year's 15 January deadline, there were 11% more applications from non-EU students than the previous year, marking the first time in five years that applications had gone up from non-EU students. Non-EU applications numbered 58,450 in 2018/19, while this year, there were 63,690 from students from outside the EU, which amounts to 9% year-over-year growth.
Where applications from EU students had dipped in 2017/18, they rose to 43,501 (3.4%) in 2018/19. The latest UCAS data reveals that the growth trend is holding, though modestly so: EU applications grew 1% to 43,890.
UCAS registered 453,840 applications from the UK this year, which represents a decrease of just under 1% compared to the applications received in January 2018.
Country-level trends
While China is the big story in terms of the overall increase in applications volume this year, there were also notable gains from the following important sending markets:
Canada: +3%
France: +5%
India: +5%
Italy: +2%
Malaysia: +4%
Nigeria: +10%
Spain: +7%
US: +5%
There were also significant increases from countries sending smaller numbers of students to UK universities. While these are more modest numbers, the extent of the growth is notable given the push for greater diversification of the international student population in the UK.
Source: http://monitor.icef.com/2019/02/non-eu-applications-to-uk-universities-up-this-year/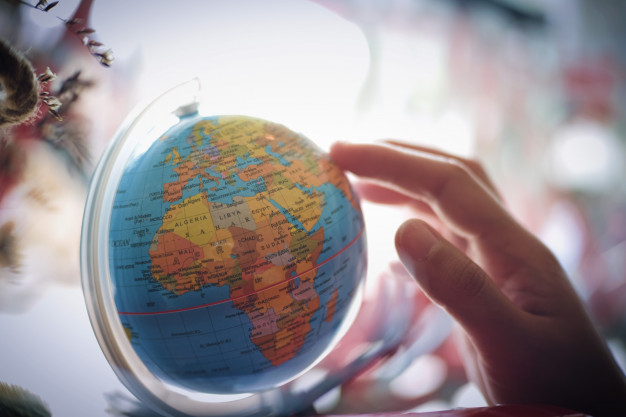 The latest student data from Immigration, Refugees and Citizenship Canada (IRCC) describes another year of very strong growth in Canada's international student enrolment.
The number of abroad students studying in the country rose 16.25% last year, marking a third consecutive year of double-digit growth and an overall overseas education increased 73% in the five years since 2014.
The number of international students holding Canadian study permits (as of 31 December) reached 572,415 in 2018, up from 492,545 the year before. This compares to the 690,468 foreign students in Australia as of November 2018, and the 458,490 EU and non-EU students in the UK during the 2017/18 academic year.
The last time we took a close look at the enrolment composition of each country, the UK was the second-ranked study destination in the world (after only the US), followed by Australia in third, and Canada in fourth. Based on the continued rapid growth of foreign student numbers in both Australia and Canada, it seems likely that there is further change afoot in that global table of leading study destinations.
Major growth markets
India continues to be a big story in Canada's international education sector. The number of Indian students grew by another 40% in 2018, for the total overall growth of just under 350% since 2014. This amounts to more than 172,600 Indian students in Canada last year, a benchmark that means that India will now surpass China as the leading sending market for Canada. Chinese numbers rose 2% last year to reach just under 143,000.
While they are showing contrasting trends in recent years – China is flattening out as India surges – the two countries together accounted for 55% of all visiting students in Canada.
More broadly, the top 20 source markets, as reflected in the table below, sent nearly 86% of Canada's foreign students in 2018.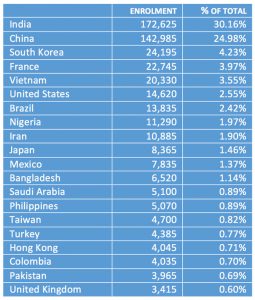 The top 20 sending markets for Canada, 2018. Enrolment and percentage of the total. Source: IRCC
Aside from India, the fastest-growing markets for Canada in 2018 included Bangladesh (+53%), Iran (+48%), Vietnam (+46%), Colombia (+41%), Philippines (+29%), Kenya (+29%), and Brazil (+17%).
In terms of the level of study, 13.5% of Canada's international students were in secondary schools, 76.5% in post-secondary programmes, and 10% in "other studies", including exchange programmes and language studies of six months' duration or more.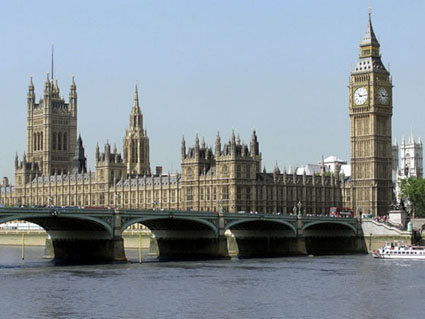 Home Office to extend scheme which streamlines process for international Masters students wanting to study in the UK.
A pilot which is looking at streamlining the process for international Masters students wanting to study in the UK has been extended to an additional 23 universities, the Immigration Minister announced today.
Currently in its 2nd year with the Universities of Oxford, Cambridge, Bath and Imperial College London, the pilot will streamline the process for international students looking to study on a Masters course of 13 months or less in the UK.
It also provides greater support for students who wish to switch to a work visa and take up a graduate role, by allowing them to remain in the UK for 6 months after they have finished their course.
Responsibility
Universities taking part are given responsibility for eligibility checks, meaning that students can submit fewer documents than required in the current process alongside their visa applications.
Applicants that do not meet immigration rules will be refused. All students will continue to require Home Office security and identity checks.
The additional 23 universities to benefit from the pilot include 2 in Scotland, 2 in Wales and 1 in Northern Ireland as well as universities from across England.
Immigration Minister Brandon Lewis said:
I am delighted to announce the expansion of this pilot which is part of our ongoing activity to ensure that our world-leading institutions remain highly competitive.
The UK continues to be the 2nd most popular destination for international students and the number coming to study at our universities has increased by 24% since 2010.
This is a clear indication that genuine students are welcome and there is no limit on the number who can come to study in the UK.
Increase
The most recent Home Office statistics show that the number of students applying for visas increased by 8% over the past year, and there has been a 9% increase in the number of students applying to Russell Group universities.
The 23 additional universities will be able to apply the pilot to their 2018/19 intake. The universities were selected as their visa refusal rates are consistently the lowest in their area or region.
The 23 universities to be added to the pilot are:
Cardiff University
Goldsmiths University of London
Harper Adams University
Newcastle University
Queen's University Belfast
The Royal Central School of Speech and Drama
University of Bristol
Durham University
University of East Anglia
University of Edinburgh
University of Essex
University of Exeter
University of Glasgow
University of Leicester
University of Liverpool
University of Manchester
University of Nottingham
University of Reading
University of Sheffield
University of Southampton
University of Wales Trinity St. David (Swansea Campus)
University of Warwick
University of York
Powered by