The latest student data from Immigration, Refugees and Citizenship Canada (IRCC) describes another year of very strong growth in Canada's international student enrolment.
The number of abroad students studying in the country rose 16.25% last year, marking a third consecutive year of double-digit growth and an overall overseas education increased 73% in the five years since 2014.
The number of international students holding Canadian study permits (as of 31 December) reached 572,415 in 2018, up from 492,545 the year before. This compares to the 690,468 foreign students in Australia as of November 2018, and the 458,490 EU and non-EU students in the UK during the 2017/18 academic year.
The last time we took a close look at the enrolment composition of each country, the UK was the second-ranked study destination in the world (after only the US), followed by Australia in third, and Canada in fourth. Based on the continued rapid growth of foreign student numbers in both Australia and Canada, it seems likely that there is further change afoot in that global table of leading study destinations.
Major growth markets
India continues to be a big story in Canada's international education sector. The number of Indian students grew by another 40% in 2018, for the total overall growth of just under 350% since 2014. This amounts to more than 172,600 Indian students in Canada last year, a benchmark that means that India will now surpass China as the leading sending market for Canada. Chinese numbers rose 2% last year to reach just under 143,000.
While they are showing contrasting trends in recent years – China is flattening out as India surges – the two countries together accounted for 55% of all visiting students in Canada.
More broadly, the top 20 source markets, as reflected in the table below, sent nearly 86% of Canada's foreign students in 2018.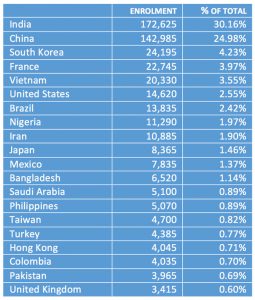 The top 20 sending markets for Canada, 2018. Enrolment and percentage of the total. Source: IRCC
Aside from India, the fastest-growing markets for Canada in 2018 included Bangladesh (+53%), Iran (+48%), Vietnam (+46%), Colombia (+41%), Philippines (+29%), Kenya (+29%), and Brazil (+17%).
In terms of the level of study, 13.5% of Canada's international students were in secondary schools, 76.5% in post-secondary programmes, and 10% in "other studies", including exchange programmes and language studies of six months' duration or more.

The maple country Canada is one of the top destinations recognized for overseas studies. Broadly, education in Canada is very reasonable as compared to other developed countries like Australia, US etc. The foreign students prefer Canada due to the emerging work opportunities and multicultural society. Canada in the present time has curled out a new open work permit scheme to attract foreign students. Canada faces a dearth of skilled labor; the Government of Canada has taken compelling steps to assist foreign students who wish to remain in the country following their graduation. The Minister of Citizenship and Immigration has announced that under the Post-Graduate Work Permit Program, foreign students would be allowed to apply for a three-year work permit from within the country, without having a job offer in hand, as long as they completed at least a two-year course of study. The students who had pursued a shorter course of study would be able to obtain a work permit for a length of time equal to that of the studies they pursue in Canada. The standard of living and education in Canada are acclaimed among the highest globally. The living expenses and school fees for foreign students are also more affordable compared to other destinations of international education. Scholarships are granted for excellent foreign students who want to study abroad in Canada.
One can discover almost all of the ethnic groups of the world in Canada. So it becomes easier foods and activities that can bring wonderful memories at home. Canadian universities usually have international student centres that help foreign students to acclimate to the multicultural society of Canada. To get a chance to study in Canada helps you with an opportunity to explore the culture over there and to promote positive understanding of multicultural diversity. Canada's renowned dynamic and well-adaptive academic setting, foreign students not only gains knowledge and skills for a global career, but also they learn how to acquire a different perspective of the world through critical thinking, self-expression and creativity. These are the things that many people use to enhance their career when they return to their homeland, or to have a chance in staying in Canada after their successful completion of graduation
Source:http://blogs.visassimply.com/overseas-education-study-in-canada/